Hello all! I hope everyone is enjoying their week so far! I have family in town and I am loving EVERY minute of it! My little cousin Lacy and I are having a blast as always. She is my favorite little peanut and we are inseperable whenever they come to visit. Last night we made s'mores and sat outside by the fire pit. Tonight she has insisted she is coming back to my house and having a sleepover with me...and you know what? I don't mind one bit! Here is a quick pic from last night
Also...one of my very favorite blogs is celebrating their "blogoversary" with an amazing giveaway!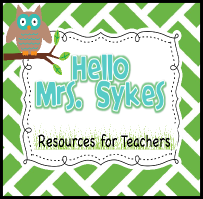 My probability packet and TONS of other prizes are up for grabs!! Head on over to Hello Mrs. Sykes and check it out!
Have a wonderful 4th of July!